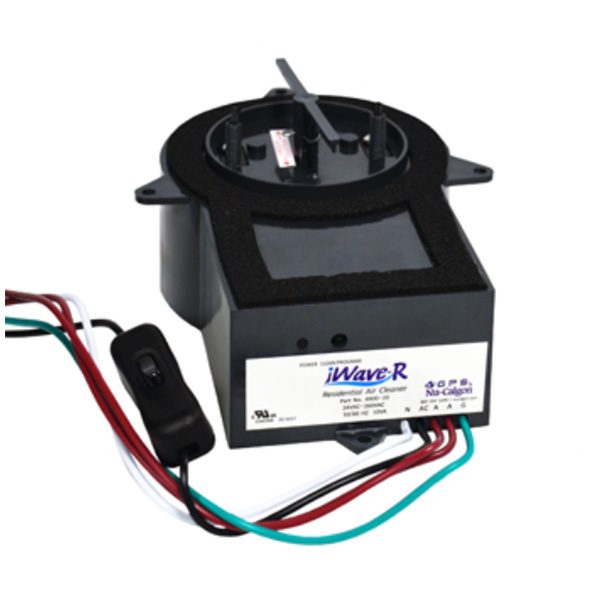 The Nu-Calgon iWave-R is the most affordable air purifier on the market, and it works. Although air purification systems using ionization have been around for more than 10 years, this latest innovation by Nu-Calgon's has been a major success. The iWave-R is an air sanitizer and air purifier that isn't going anywhere anytime soon, especially in today's world with the recent global pandemic. Nevertheless, even prior to COVID-19, this innovative air ionization product was already proving its effectiveness. With more than 200,000 successful installations worldwide and positive reviews from homeowners everywhere, the Nu-Calgon iWave-R is an excellent choice for anyone seeking to improve the air quality in their home without breaking the bank.
Schedule an iWave-R Installation
Like our family company, the iWave-R has a Five Star Google Rating from homeowners who installed it into their HVAC unit. As we've discussed, this ionization air cleaner sanitizes your home's air supply while removing a host of allergens, odors and other airborne particles. It reduces static electricity, removes smoke and other odors and more. Air pollution caused by household cleaning, cooking, pesticides, personal care products, cosmetics and other chemicals all get removed by this innovative product. Plus, you'll never have to worry about ozone or any other harmful byproducts with the iWave-R. It doesn't require maintenance, cleaning or any customer attention once it's in place.
4 Benefits of Air Purifiers


Lowers the chances of becoming sick, and improves sleep

Airborne infections spread through microscopic pathogens floating around in the air supply. If one family member gets the flu, it's very common for everyone else in the home to eventually end up with that same bug. When everyone is breathing the same air and that air is getting recycled over and over without proper filtration, purification and treatment, this stuff spreads fast.
Dust and Odor Removal

By removing any floating airborne particles in your home, air purification products can get rid of stubborn odors. Air purification helps keep your house cleaner because it removes household air pollution and odors created by cooking or smoking. It also makes your home smell fresher through a process called odor absorption, which removes the foul smell from the air so you can breathe easier.

Helps with allergy symptoms

If you or anyone in your residence has any sort of problems with allergies, you should understand the importance of maintaining an indoor environment that's clean and free of things that can make your symptoms flare up. Pollen and mold are floating around in the air supply in most dwellings in Ohio. Air purification helps to maintain a healthy indoor environment at a lower cost than replacing furniture and carpets. It also helps with problems caused by pets.

Cleaner & Healtheir air

If you want cleaner, purer, healthier air in your Westerville area home, an air purification system that delivers more bang for your buck is what you need. Air purifiers are residential air quality products that remove pollution inside buildings or homes to improve indoor air quality. They can benefit allergy sufferers and asthmatics by reducing or eliminating second-hand tobacco smoke and removing things that are unhealthy to breathe. Air purifiers are products that help you improve your indoor air quality. They help with a wide range of different types of air pollution and odors in the home.
Buy Today, Pay Over Time
With HVAC Financing
You work hard for your money. So why not treat yourself to a new HVAC system?
At Westerville Air Conditioning & Heating, we believe in giving our customers the best possible financing options so that they can achieve maximum comfort in their homes without breaking the bank. We want you to be able to spend your hard-earned dollars on what matters most to you: your family's comfort.
Your HVAC system accounts for around half of the energy used in your home every month. Every hard-earned dollar spent towards upgrading your heating or cooling system will save you money in the long run.