Premium Air Conditioner Installation & Replacement in Westerville, Ohio
Do you think that upgrading your home cooling system would save you money in the long run? There are certain indicators to keep in mind when thinking of future A/C system savings, and they include: How often does a repair professional have to come and repair your system? And, how expensive is your energy bill? If you find these numbers too high, then you might benefit from a new AC installation. Call today if you're ready to have a seasoned technicians come to your home.
$69 Diagnostic Service Call
SAVE $30 | Regularly $99
4 Types of Central Air Conditioning Systems

THE SPLIT SYSTEM
Split systems are the most common type of central AC systems in the U.S. It has the term "split" because it uses components both outside and inside. The inside component is called an air handler; it holds the blower and evaporator coil. The outside component is actually what the majority of people consider to be the "air conditioning unit" itself. If you have a furnace for central heating, you probably have this split system.

DUCTLESS MINI-SPLIT
For people looking to keep their home cool without a duct system, ductless systems are great options. While the other types of systems utilize ductwork to circulate the cool air coming from the AC, the ductless system doesn't. Ductless mini-split systems use an outdoor AC unit or heat pump, which runs to the air handling units in the different parts of the house. 

PACKAGED AIR CONDITIONERS
Packaged air conditioners combine electric air conditioning and a heat pump. These typically rest on the roof or just outside the home or commercial building. They are often the choice for commercial applications because of their small footprint and installation flexibility.

THE HEAT PUMP
Heat pumps are a different kind of split system. Instead of an AC and a furnace, the heat pump works for both HVAC seasons, giving the homeowner heat during the winter and cool air during the summer. Similar to the split system, heat pumps have their air handler inside, and the actual heat pump case sitting outside, looking very much like an AC unit. 
Get a Free Quote on A/C Installation Today!
Are you in the market for a new air conditioning unit for your Westerville, OH home? Our install team has installed thousands of different types of cooling systems all over Central Ohio. Our team is knowledgeable and can answer any and all questions about your A/C. We only carry products from trusted HVAC manufacturers like Amana, Carrier, Trane, Goodman, and more. Get a free online estimate from us for air conditioner installation. We'd be happy to come out and assess your HVAC system!
When To Replace Vs. Repair Your A/C Unit
At times, it can be difficult for homeowners to decide if their A/C system needs to be replaced or simply repaired. While taking into consideration the overall expenses associated with repairs, in the long run, we at Westerville Air Conditioning & Heating encourage homeowners to think about some other factors on whether it's time for a new A/C:
Does your home feel cool enough?
Is there adequate air flow?
Do you notice water leakage in or around the unit?
Does your unit make unusual sounds?
Are there warm "zones" in your home?
Does your AC take longer to cool your home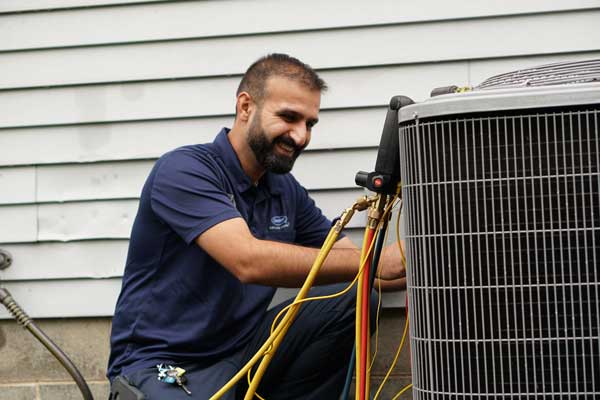 We'll Inspect Your Old Air Conditioner
Our highly skilled expert technicians will inspect your A/C and guide you toward the right decision for you and your family. If it's repairable, we'll do so if that's what you prefer. We'll never force you to install a new system if you're not ready. We keep your budget in mind by offering online deals and financing options. Schedule a Diagnostic Service Call today!
We Service All Brands of Equipment
We can service any brand of HVAC equipment, even if we didn't install your system originally. Here's a few of the trusted brands we work with directly:

Comfort You Can Count On.
Why Choose Westerville Air Conditioning & Heating?
We provide premium HVAC services in Westerville, Ohio that you can count on. Our top priority is to provide our customers with a Five Star Experience. Our technicians are NATE-certified, friendly, and experts in what they do. Our customer service team will treat you like family from the moment you call. We'll take what can be a stressful, unexpected event and turn it into a hassle-free experience.