Media Air Filters Services in Westerville, OH
The right air filter can keep your home's air supply clean and healthy, so you can breathe easy. Our local air care specialists in Westerville area have the right solution for your home: media air filters that will improve your indoor air quality at a fraction of the cost. If you have the typical one-inch-thick air filter that almost all HVAC units are usually equipped with, the quality of your home's air supply might not be as good as you need it to be. In fact, these standard filters don't actually improve indoor air quality at all—they just protect equipment. To improve your residential air quality, you need something more effective to keep your home's air supply clean and healthy. That's where our media filters come in handy. As your local air care experts in Clermont and Hamilton counties, we at Westerville Air Conditioning & Heating are happy to help!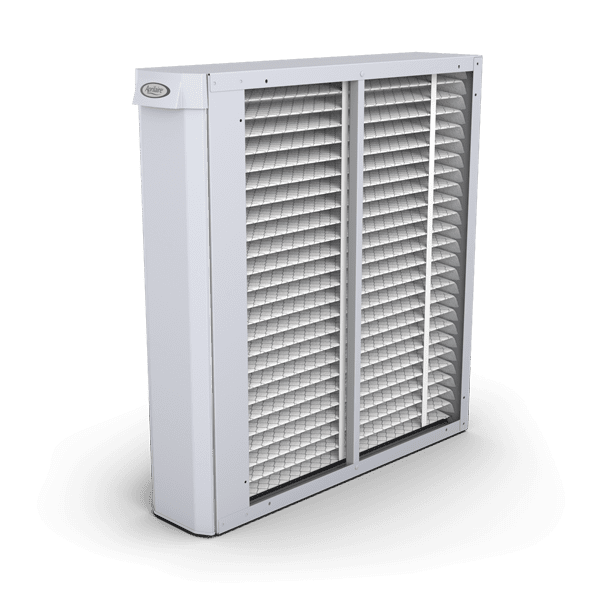 Media Filter vs. Standard Filter
A standard filter is designed to remove dust, pollen and other small particles from the air that you breathe. A media filter is a more advanced type of filter that can remove even smaller particles than a standard filter. It also has the ability to trap larger particles, such as pet dander and mold spores. A media filter has multiple layers of material, which allows it to trap larger particles. The layers of material also have varying densities, which allows them to capture different sizes of particles. For example, one layer will capture large particles, while another layer will capture smaller particles.
The different layers in media filters are made from different types of materials, including fiberglass and metal mesh. Each type of material has its own unique qualities that make it ideal for certain applications. Fiberglass is lightweight and does not conduct heat well, making it an ideal material for use in residential heating and cooling systems. Metal mesh is heavier than fiberglass but conducts heat better than most other types of materials used in HVAC systems today
Our Online Air Cleaner Deal
The Real Deal: A Whole-House Media Air Cleaner traps and filters airborne particles and contaminants passing through the duct system ensuring higher quality air throughout the home. Overall, it is up to 85% more effective at removing airborne particles than a standard one-inch-thick furnace filter. Enjoy the benefits of a whole-home solution for improving the air in your house today!
$399 Whole-House Air Cleaner + Installation
SAVE $100 | Regularly $499
3 Benefits of Air Filters
Eradicates Household Air Pollution

— With this installed into a residential HVAC unit, the media air cleaner continuously removes and filters out all sorts of particles, pollution and indoor allergens while they pass through the system. These impurities can lead to respiratory illnesses and other health issues. On top of the health benefits, removing these sorts of things from your air supply reduces dirt and dust in the home. Having less dust building up, in addition to cleaner air, your home will look cleaner and feel better.

The Media Filter Lasts Longer

— Our home heating and cooling experts recommend homeowners replacing these high-performance accordion air filters at least one time per year. However, you should be checking them at least every six months for replacement. Depending on all the various factors contributing to the dust accumulation in your home, your air filters might only need to be replaced a minimum of one time every year.

Preserves HVAC Systems

— Anything you can do to make your HVAC equipment last longer is a major benefit because these systems are expensive to replace. As noted above, the use of a media air filter helps you prolong the lifespan of your HVAC unit. Using media filters helps keep the equipment's indoor coil clean. Because a Whole-Home Air Cleaner is thicker with a much larger surface area to trap, capture and remove more dirt and dust then standard air filters, your equipment benefits in the long run as well.
We Replace and Install Air Filters in Westerville, OH!
Whole-house air cleaners are an essential part of a healthy home. They're also among the most effective ways to reduce allergens and improve your indoor air quality. With a name like "whole-house air cleaner," you can bet this product delivers superior indoor air quality throughout the home. Westerville Air Conditioning & Heating offers homeowners in the Westerville and Columbus area the best deals on the highest quality whole-house cleaners. If you're ready to take advantage of our special online offer for air cleaning to improve your home's air quality and promote ideal health and well-being, you should call us today! This offer won't last forever and our prices can't be beat. Your local indoor air care experts here at Westerville Air Conditioning & Heating are the company to call.
We Service All Brands of Equipment
We can service any brand of HVAC equipment, even if we didn't install your system originally. Here's a few of the trusted brands we work with directly:

Comfort You Can Count On.
COMMON AIR FILTER QUESTIONS & ANSWERS
Media filters can give a homeowner cleaner air and filter out far more. In short, they are able to remove smaller particles without restricting the system's airflow. Usually, media air filters last for 6 to 12 months until they need to be replaced. It's a good idea to perform a visual inspection of your air filter regularly.  The standard air filters that are used in HVAC systems aren't actually designed to improve indoor air quality. To effectively improve your indoor air quality and promote health throughout the home, having a media filter installed is strongly recommended. Media filters are positioned between the blower cabinet and the main return duct. They are made with a deeply pleated, paper-like material that filters the air far more effectively. In fact, media air cleaners are at least 7 times better than a standard filter at removing dust and other airborne particles.