Cooling Services in Westerville, OH
Premium Cooling Services in Westerville, Ohio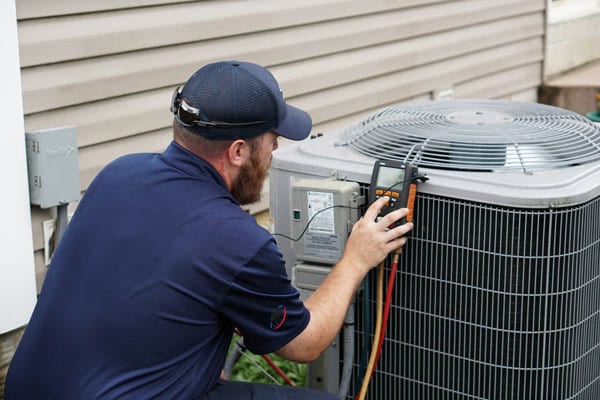 Warm temperatures are on the horizon, and it's time to make sure that your home cooling system is ready to go. If your air conditioning system is ready for a tune-up, the service team at Westerville Air Conditioning & Heating has got you covered!
We offer repair, maintenance, and installation on air conditioners, air handlers, heat pumps, and more! Need a brand new cooling system installed? We work directly with trusted HVAC brands such as Amana, Carrier, Goodman, Trane, and more. Call us today for Cooling Services in Westerville and surrounding areas.
Schedule a Diagnostic Service Call Today!
Is your cooling system showing signs of a breakdown? If you're unsure what's wrong with your heating or cooling system, we can perform a Diagnostic Service Call to determine exactly what your system needs. Schedule this deal today!
$49 Diagnostic Service Call
SAVE $50 | Regularly $99


Air Conditioner Maintenance

Air Conditioner Installation
4 Cooling Efficiency Tips
Get the Most Out of Your A/C
We at Westerville Air Conditioning & Heating hope you enjoy a nice cool summer in your comfortable sanctuary from Ohio's heat. To add to that comfort, we present some money-saving tips to keep your home cool for less money while increasing the life of your home cooling system:

Use Thermostat Properly
Use your thermostat efficiently by setting it to a temperature you find comfortable and that provides humidity control, if necessary. The less of a difference between the indoor and outdoor temperatures, the lower your overall cooling costs will be.

Seal Windows
Keep that hot air from the outside from leaking inside by sealing cracks and openings in your home, utilizing caulk and weather stripping while keeping your home's insulation up to par.

Utilize Window Coverings
Use your windows to keep out the heat by installing window coverings to prevent heat gain through your windows during the day. Find out about window treatments and coverings that can improve energy efficiency.

Schedule Seasonal Maintenance
Keep your home cooling system running efficiently, for years to come by scheduling regular maintenance. This will curb monthly costs and prolong your system's lifespan.
Air Conditioner Repair in Westerville, Ohio
When you turn on your air conditioning unit, you should feel cool, refreshing air almost instantaneously. If your AC needs repair, we'd be happy to fix it. Your comfort is our top priority, and Westerville Air Conditioning & Heating is committed to making sure your home is as welcoming and refreshingly cool as you want it to be. Save money on a diagnostic service call today!
Frequently Asked Questions
When should I call for air conditioner repair?
You may start noticing issues if your air conditioning unit is nearing 10-15 years of age. Don't live in discomfort! If you're experiencing any of the following, contact us immediately.
The unit is blowing hot or warm air
The airflow is not powerful or consistent
You've found moisture and leakage around the unit.
Strange or unusual noises coming from the unit
Unsure of what's wrong with your cooling unit? Schedule a diagnostic service call today!
How does a central A/C system work?
The typical central air conditioning system is a split system, with an outdoor air conditioning, or "compressor bearing unit" and an indoor coil, which is usually installed on top of the furnace in the home.
Using electricity, the compressor pumps the refrigerant through the system to gather heat and moisture from indoors and remove it from the home.
Heat and moisture are removed from the home when warm air from inside the home is blown over the cooled indoor coil. The heat in the air transfers to the coil, thereby "cooling" the air.
The heat that has transferred to the coil is then "pumped" to the exterior of the home, while the cooled air is pumped back inside, helping to maintain a comfortable indoor temperature.
Central air conditioning can also be provided through a package unit or a heat pump.
Ready to schedule services? Give us a call today!
What is A/C refrigerant?
Refrigerant is a compound typically found in either a fluid or a gaseous state. It readily absorbs heat from the environment and can provide refrigeration or air conditioning when combined with other components such as compressors and evaporators.
Air Conditioner Maintenance in Westerville, Ohio
Air Conditioner Maintenance
Homeowners: what's worse than realizing your A/C is non-responsive on the first hot, sticky day of the year? Avoid these stressful situations by scheduling regular maintenance with us at Westerville Air Conditioning & Heating. Schedule services today! We make it easy with our 12-Month Service Maintenance Agreement.
Frequently Asked Questions
Should I turn my AC off when I'm not home?
It's better to leave it at a higher average temperature while you are gone daily. If you turn the system off, the system works harder when turned back on. It also will take the system a long time to reach the desired temperature. Thus, putting more strain on the unit.
What's the perfect temperature?
The idea is to stay within about 15 degrees of the outdoor air temperature. Many HVAC specialists recommend keeping the thermostat at or near 78 degrees while home. If the temperature is in the 90's and above, 78 will feel cool and the cost to maintain that temperature is much lower. This is also based on personal preference, of course!
What does a A/C Tune-Up include?
A/C Tune-Up and Safety Check includes
Check compressor amp draw
Check operation sequence
Inspect condenser coil
Measure temperature drop
Check valves
Check thermostat
Check contactor
Check motor capacitor
Check compressor capacitor
Check relays
Check drainage
Check motor amp draw
Check freon/refrigerant levels
Check and inspect electrical
Lubricate any accessible moving parts
Check discharge
Check overall operations ensuring that your system shuts down properly; preventing future issues.
Ready to schedule? Get this deal now!
Air Conditioner Replacement & Installation
in Westerville, Ohio
Air Conditioner Replacement & Installation
After about 15 years with their current A/C, homeowners should consider upgrading to a new unit. Doing so will save you money on energy bills and repairs over time. Our technicians can help you make the decision whether to repair or replace it. Save money on a diagnostic service call today!
Frequently Asked Questions
How do I know when I should replace my A/C?
Consider the age of your unit. The average life expectancy of A/C units these days is 10-15 years. If your A/C is younger than 10 years old, you should look into repairing it. If it's older than 15, you may want to start shopping around. 
Also, consider how much money you've spent on repairs in the past few years. If the cost of repair is greater than the cost to replace, we'll recommend a replacement. 
Will a new air conditioner save me money over time?
Absolutely! An air conditioner that's just 10 years old may be as much as 60 percent less efficient than a brand new baseline unit. Today's energy-efficient models do a lot more cooling with a lot less electricity, keeping operating costs low.
Should I purchase a bigger unit than the one I'm replacing?
No. Bigger isn't always better. Don't be tempted to up-size your unit unless your old unit was incorrectly sized to begin with. A too-large unit will run infrequent short cycles, preventing it from removing humidity properly from your home and shortening its lifespan.
We Service All Brands of Equipment
We can service any brand of HVAC equipment, even if we didn't install your system originally. Here's a few of the trusted brands we work with directly:

Comfort You Can Count On.
Why Choose Westerville Air Conditioning & Heating?
We provide premium HVAC services in Westerville, Ohio that you can count on. Our top priority is to provide our customers with a Five Star Experience. Our technicians are NATE-certified, friendly, and experts in what they do. Our customer service team will treat you like family from the moment you call. We'll take what can be a stressful, unexpected event and turn it into a hassle-free experience.