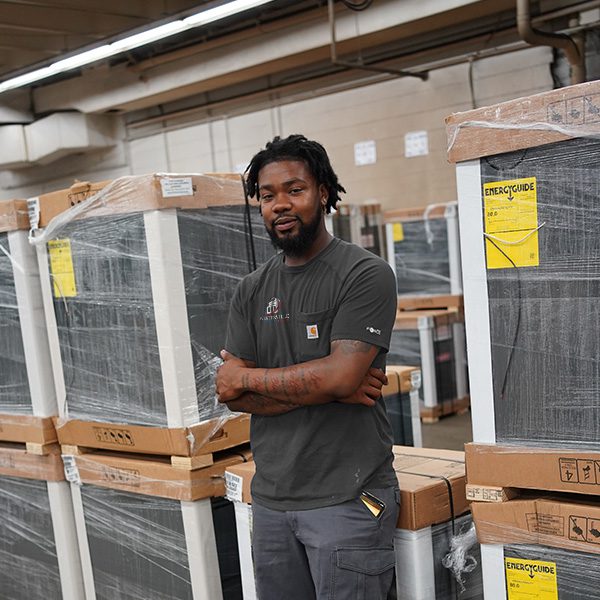 Heat Pump Install Services
A heat pump is both a heating and cooling system, extracting heat from the air and moving it via an air handler to another location. In the summer months, a heat pump will extract heat from your inside air and relocate it outdoors, essentially cooling your home. In the winter months, a heat pump system will move heat energy from the outside air into your home.
The ability to either heat or cool a home, combined with the fact that it moves heat rather than creates heat, makes a heat pump an excellent choice for consumers interested in energy efficiency and versatility.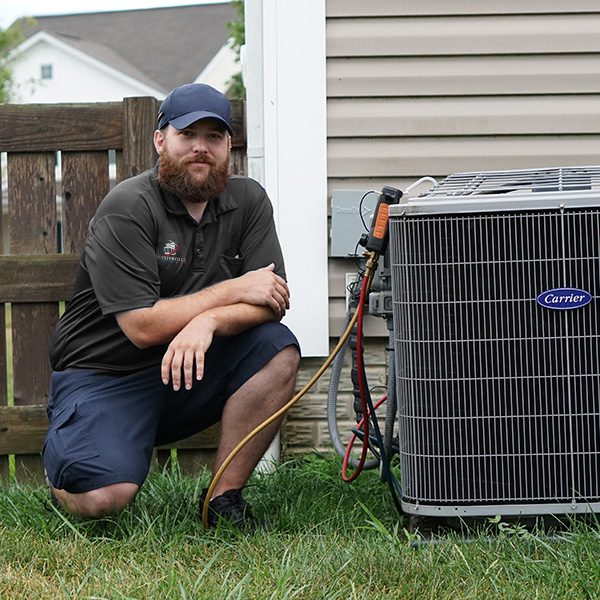 Get a Free Quote on Heat Pump Installation Today!
Are you in the market for a new Heat Pump unit for your Westerville, OH home? Our install team has installed thousands of different types of Heat Pump systems all over Central Ohio. Our team is knowledgeable and can answer any and all questions about your Heat Pump. We only carry products from trusted HVAC manufacturers like Amana, Carrier, Trane, Goodman, and more. Get a free online estimate from us for air conditioner installation. We'd be happy to come out and assess your HVAC system!
$0 Instant Online Estimate
Free Estimate
4 Symptoms of a Heat Pump Needing Replacement


Age of Unit

It's normal for a heat pump to last 12-20 years. If your unit is older than this, it's time for an upgrade.
Inconsistent Heat Supply

You should be getting an even heat supply throughout your home. If you feel spotty areas, call for a diagnosis.


Unusual Noises

Noises are usually traced to the exact components of your HVAC. These may be able to be repaired.
Buy Today, Pay Over Time
With HVAC Financing
You work hard for your money. So why not treat yourself to a new HVAC system?
At Westerville Air Conditioning & Heating, we believe in giving our customers the best possible financing options so that they can achieve maximum comfort in their homes without breaking the bank. We want you to be able to spend your hard-earned dollars on what matters most to you: your family's comfort.
Your HVAC system accounts for around half of the energy used in your home every month. Every hard-earned dollar spent towards upgrading your heating or cooling system will save you money in the long run.
Commonly Asked Heat Pump Questions
When to Repair vs. Replace Your Heat Pump
Homeowners with an aging heating and cooling system usually ask themselves: How will I know if it is time to replace a unit rather than merely repair it?
This is one of the most prevalent questions we get from homeowners. And our answer depends. Usually, a heat pump does not need to be replaced, but there are circumstances when it does.
Here are a few signs that a heat pump may only need to be repaired instead of needing replacement:
The heat pump isn't 10 years old yet.
The heat pump merely needs to have the dirt and dust accumulation removed.
The repairs are not very expensive, or they are minor
The heat pump has not yet needed any repairs in the past.
What is the downside to a heat pump?
The downside to a heat pump is that it has a high upfront cost. The installation process is also difficult, and the sustainability of the product is questionable. It also requires significant work to install.
Is it worth getting a heat pump?
Heat pumps are more efficient than traditional boilers and use cleaner electricity, so they'll reduce your home's carbon footprint. A heat pump takes the heat from the air or ground and transfers it into your home to provide heating and hot water.