Heating Services in Westerville, OH
Premium Heating Services in Westerville, Ohio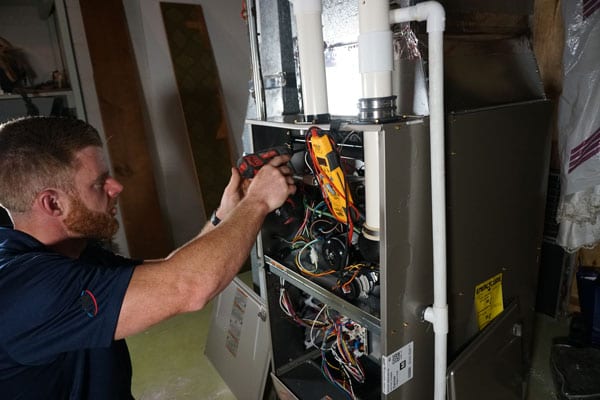 In order to feel fully prepared for the winter ahead, homeowners should make sure their Heating systems have been tuned-up, checked for safety, and given the green light by an HVAC professional. If you're ready for a tune-up, the service team at Westerville Air Conditioning & Heating has got you covered! 
We offer repair, maintenance, and installation on Gas and Electric Furnaces and Heat Pumps. Need a brand new unit installed? We work directly with trusted HVAC brands such as Carrier, Goodman, Trane, and more. Call us today for Heating Services in Westerville and surrounding areas.
Schedule a Diagnostic Service Call Today!
Is your HVAC system showing signs of a breakdown? If you're unsure what's wrong with your heating or cooling system, we can perform a Diagnostic Service Call to determine exactly what your system needs. Schedule this deal today!
$49 Diagnostic Service Call
SAVE $50 | Regularly $99






Furnace Repair in Westerville, Ohio
Gas & Electric Furnace Repair
Realizing that your heating equipment isn't working when you need it the most is not ideal. We know that unexpected issues like this happen. If your furnace or heat pump is non-functioning, don't hesitate to schedule services with us. We're always here to help, emergency or non-emergency. Save money on a diagnostic service call today!
Frequently Asked Questions
When should I call for furnace repair?
Chances are high that you'll run into some issues if your furnace is nearing 15-20 years of age. Don't live in discomfort! If you're experiencing any of the following, contact us immediately.
The unit is non-functioning
The unit is only blowing cold air
The ignition light is malfunctioning.
The furnace flame sensor does not detect flames properly.
The motor is showing signs of disrepair.
The thermostat is faulty.
Unsure of what's wrong with your heating unit? Schedule a diagnostic service call today!
What is carbon monoxide?
Carbon monoxide (CO) is a colorless, odorless, and toxic gas. The Environmental Protection Agency warns that at low levels of exposure, CO causes mild effects that are often mistaken for the flu. These symptoms include headaches, dizziness, disorientation, nausea, and fatigue. 
If you're concerned about a potential leak, evacuate yourself and any other persons/pets from inside the home immediately. Use a phone located outside of the home to call your local gas utility and/or the fire department.
How is the efficiency of heating equipment measured?
The S.E.E.R. (seasonal energy efficiency ratio) is the amount of cooling your system will deliver per dollar spent on electricity. For example, a 3-ton unit may have a S.E.E.R. efficiency rating of 13, 14, or 15. The higher the S.E.E.R., the more efficient the system will be. The S.E.E.R. rating of any given unit can range anywhere from 13 to 17.
Furnace Maintenance in Westerville, Ohio
Gas & Electric Furnace Maintenance
Homeowners: what's worse than realizing your furnace is non-responsive on the first cold day of the year? Avoid these stressful situations by scheduling regular maintenance with us at Westerville Air Conditioning & Heating. We make it easy with our 12-Month Service Maintenance Agreement.
Frequently Asked Questions
What's included in the Scheduled Maintenance Agreement (SMA)?
Life get's busy. We can take on the responsibility of maintaining your heating equipment for you! At Westerville Air Conditioning & Heating, we offer a Scheduled Maintenance Agreement to ensure your HVAC system is performing efficiently. Here's what's included:
1-Heating Tune-Up
1-Cooling Tune-Up
Priority Service
50% off Normal, After Hours or Holiday Diagnostic
10% off All Repairs
10% off Any Indoor Air Quality Equipment
Schedule this deal now or call us for more information!
What's the best way to extend the life of my unit?
Reducing usage is always helpful, so turn the thermostat up or down, as needed, to reduce usage when you're not at home. Changing air filters will prevent clogs. Regular check-ups can also help you ward off any potential trouble spots. Maintenance also keeps your warranty in good standing and is often recommended by manufacturers. 
Ready to schedule services? Give us a call today!
What does a Furnace Tune-Up include?
Furnace Tune-Up and Safety Check includes
Check pilot assembly and ignition sequence
Check thermocouple or flame sensor
Check burner flame
Check humidifier and air cleaner
Check heat exchanger
Check for proper venting
Check fan control
Check safety device and electrical wiring
Check blower amp draw
Check belt (tension adjustment)
Check operation sequence
Check gas valve
Check and inspect the circuit board
Lubricate all accessible moving parts
Check for overall safe operation
Carbon monoxide safety test
Ready to schedule? Get this deal now!
Furnace Replacement & Installation
in Westerville, Ohio
Gas & Electric Furnace Replacement & Installation
After about 15 years with their current furnace, homeowners should consider upgrading to a new unit. Doing so will save you money on energy bills and repairs over time. Our technicians can help you make the decision whether to repair or replace it. Save money on a diagnostic service call today!
Frequently Asked Questions
How do I know when I should replace my furnace?
Consider the age of your unit. The average life expectancy of furnaces these days is 15-20 years. If your furnace is younger than 15 years old, you should look into repairing it. If it's older than 15-20, you may want to start shopping around. 
Also, consider how much money you've spent on repairs in the past few years. If the cost of repair is greater than the cost to replace, we'll recommend a replacement. 
Why is replacing my furnace important?
Modern, high-efficiency furnaces can be up to 95% fuel-efficient — chances are slim that your 15-year-old furnace can compete with this efficiency. There are many factors that can help you make the decision of whether to replace or repair. Consider all factors, such as age, number of prior repairs, the status of the unit, etc. Our highly skilled technicians can help you weigh your options during a diagnostic service call. 
What does a furnace installation entail?
To install the most efficient HVAC system in your household, a detailed inspection will first be performed by our expert installers. The inspection will include things like your home's ductwork, insulation, refrigerant piping, electrical service, wiring, thermostat, condensate piping, flue piping, flue terminations, chimney liner, slabs, filter, driers, registers, grills, drain pans, and evaporator coil.
Want more information? Call us today! 
We Service All Brands of Equipment
We can service any brand of HVAC equipment, even if we didn't install your system originally. Here's a few of the trusted brands we work with directly:

Comfort You Can Count On.
Why Choose Westerville Air Conditioning & Heating?
We provide premium HVAC services in Westerville, Ohio that you can count on. Our top priority is to provide our customers with a Five Star Experience. Our technicians are NATE-certified, friendly, and experts in what they do. Our customer service team will treat you like family from the moment you call. We'll take what can be a stressful, unexpected event and turn it into a hassle-free experience.